"City Close and Country Quiet" is how Shea Homes, the current developer of Trilogy at Rio Vista describes this one-of-a-kind community. The description couldn't be more succinct.

Located just two miles outside the peaceful and quaint riverfront town of Rio Vista, access to California's lush delta region and popular water sports activities is just minutes away. Yet this "world apart" remains only an hour's drive from the bustling excitement of Sacramento or the San Francisco Bay Area.
Begun in 1996 by original developer Blackhawk, and subsequently helmed and developed by the expertise of Shea Homes, Trilogy has blossomed into a lushly landscaped, and vibrantly desirable destination for people over 55 who want to enjoy an active lifestyle in a relaxed and pristine setting.
Surrounded by the rolling hills and open prairie's of east Solano County's Sacramento delta, and centered around an 18-hole golf course designed by the nationally-renowned Ted Robinson, at the heart of the Trilogy community resides the 27,000 square foot Vista Clubhouse.

This stunning facility boasts a state-of-the-art athletic and wellness center, aerobics studio, an Olympic-sized indoor pool and spa with an elevated indoor running track, a cyber cafe with high-speed wi-fi and delicious daily offerings, a billiards room with four full-size billiards tables, and the list goes on.
Want to improve your computer, photography, language, or wine appreciation skills? Done. Just sign up for the class offering that pique's your interest at the Vista Clubhouse Center for Higher Learning.
Near the Vista Clubhouse and just across a spaciously green expanse of the 1st and 18th fairways is another, but no less stunning facility know as the Delta Clubhouse, where the popular and critically acclaimed Golf Club at Rio Vista may be enjoyed. But golf here is just the beginning. Meet friends enjoy cocktails and delicious gourmet fare at Sir Flair's Bar and Grill, take a leisurely swim at the luxurious outdoor pool area, complete with hot tub, large deck, and barbecue facilities.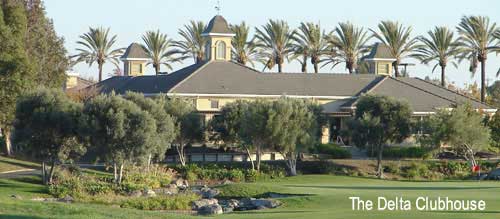 Enjoy tennis? Four lighted professional courts are just steps away. The multi-purpose recreation room serves as a meeting place for table tennis and other gaming clubs, crafting groups and more, and offers a comfortable and quiet library room that's jam-packed with a variety of popular magazines, travel books, novels, and many other attractive publications.
Then there are the homes. Ah, yes... the homes. Trilogy offers some of the most beautiful, diverse, and quality constructed homes in Northern California. A huge variety of floor plans, luxuriously appointed upgrades, and indoor and outdoor options are available to suit almost anyone's needs and/or domestic preferences.
Many homes offer state-of-the-art amenities such as solar power, and with the wide variety of lots available, from sweeping golf course and lake views, to lushly landscaped and completely private back yards, your outdoor experience while at home is sure to be relaxing and enjoyably picturesque.

Topping things off is the town of Rio Vista itself, just two miles from Trilogy's gates. Nestled on the banks of the mighty Sacramento River this quiet and peaceful hamlet was founded in 1861 at the height of the California Gold Rush and served as an important waypoint and rest stop for the seemingly endless riverboat traffic to and from Sacramento. A century and a half later Rio Vista retains much of that rustic atmosphere.
A wide variety of shops, services, and restaurants line the picturesque blocks of Main Street, and you'll find the local food markets, hardware store, and other places of business to be well stocked establishments with friendly helpful staff and an abundance of community spirit. Rio Vista's unique small town atmosphere is truly a diamond in the rough, and makes living at Trilogy that much more of a rare and relaxing experience.

Finally, there is us. Wood Real Estate, your expert resource for all things Trilogy.
With over 28 years of real estate service to the Rio Vista / Delta community, 21 of those years specializing in Trilogy homes, and, starting in 2001, the first fully dedicated Trilogy RESALE brokerage, we've helped many hundreds of Trilogy homeowners and Rio Vista area residents purchase or sell their homes.
As Trilogy homeowners and full-time residents ourselves, our investment in the community is reflected in the attentive and personalized help we're always ready to provide to Trilogy residents - our neighbors - should they ever need us.
We invite you to experience for yourself why the community has consistently placed their trust in us.
If you need to sell, downsize, or upsize your home, or if your thinking of buying NEW or RESALE, we can help you navigate the waters to decide what is best for you. We're available 7 days a week to answer any real estate questions you may have.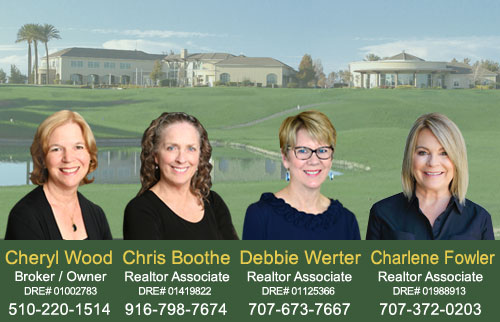 Planning a trip to Trilogy? We'd be honored to be your guide and take you on personalized tour around the community. And if you'd like to tour both NEW and RESALE homes, of course we'll be happy to oblige. Call us today. We look forward to meeting you!
Thanks for visiting and make sure to visit us on Facebook for all the latest discussions, image galleries, and more.
---
TRILOGY® is a registered trademark of Shea Homes. Wood Real Estate is an independent resale brokerage firm and not affiliated with Shea Homes.