Below you can download our 16-page Trilogy resource guide or high resolution standalone map and street index (also included in the booklet).
The booklet contains a variety of useful information for Trilogy residents and newcomers alike, including handy tips for homeowners, hidden secrets of the Delta region, a list of all the Trilogy Clubs and Groups, frequently used Trilogy, Rio Vista, and regional phone numbers and websites. There's even a custom crossword puzzle to test your local knowledge.
If you'd like a complimentary full-color glossy print version of the booklet, just visit one of our open houses at Trilogy where we always try and keep a few on hand.
We hope you'll enjoy the map and booklet and find them to be useful tools in helping you to explore all the things that Trilogy has to offer.
---
2019 Trilogy Resource Guide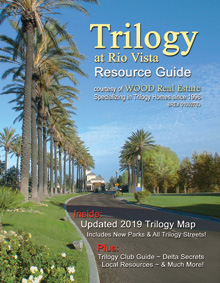 Download Link:
Trilogy-Resource-Guide-Jan-2019-by-Wood-Real-Estate.pdf

Format: PDF
File Size: 2.82MB
Dimensions: 8.75" x 11.25"
Pages: 16
DPI: 300
Color: CMYK
Map Version: 3.0 ~ January 4th 2019
Resource Guide Updated: March 17th, 2018
---
2019 Trilogy Map with Street Index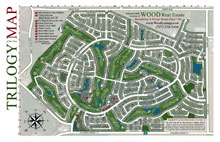 Download Link:
Trilogy-Map-w-Index-by-Wood-Real-Estate-Jan-2019-17x11.pdf

Format: PDF
File Size: 1.12MB
Dimensions: 17" x 11"
Pages: 2
DPI: 300
Color: RGB
Map Version: 3.0 ~ January 4th, 2019

---
Update Notes:
~ Jan. 4th, 2019 - Map Version 3.0 - New Trilogy Parks and Homes footprints were added.
~ March 17th, 2018 - Map Version 2.1 - Label for missing street "Riverside Dr." was added.
~ January 20th, 2017 - The street index in the Resource Guide above was updated.
~ December 14th, 2016 - The "2017 Trilogy Map with Street Index" PDF above (& the map in the Resource Guide) was revised (to Map Version 2.0). Additions included the final phase of Trilogy community whose street names are now official. This essentially completes the Trilogy map for the first time in its 22 year history!

~ Requests for corrections, additions, or suggested modifications to the map or resource guide information may be sent to: woodrealestate@gmail.com
~ We appreciate your feedback!
Booklet & Map © 2019 Wood Real Estate ~
~ No part of the booklet or map may be copied, re-used, or re-purposed in either whole or part by any commercial entities or organizations without the expressed permission of Wood Real Estate, Rio Vista, CA, BRE# 01002783.
~ Private individuals are free to download and use the booklet and/or map for NON-COMMERCIAL private use only.
For Permission for Re-Use Questions:
~ Contact Cheryl Wood at: woodrealestate@gmail.com or by calling 510-220-1514.
For Technical and/or Graphics Matters:
~ Contact webmaster Ed Truthan at: edtruthan@gmail.com or by calling 707-932-1135.
---